10 Great Small Restaurant Ideas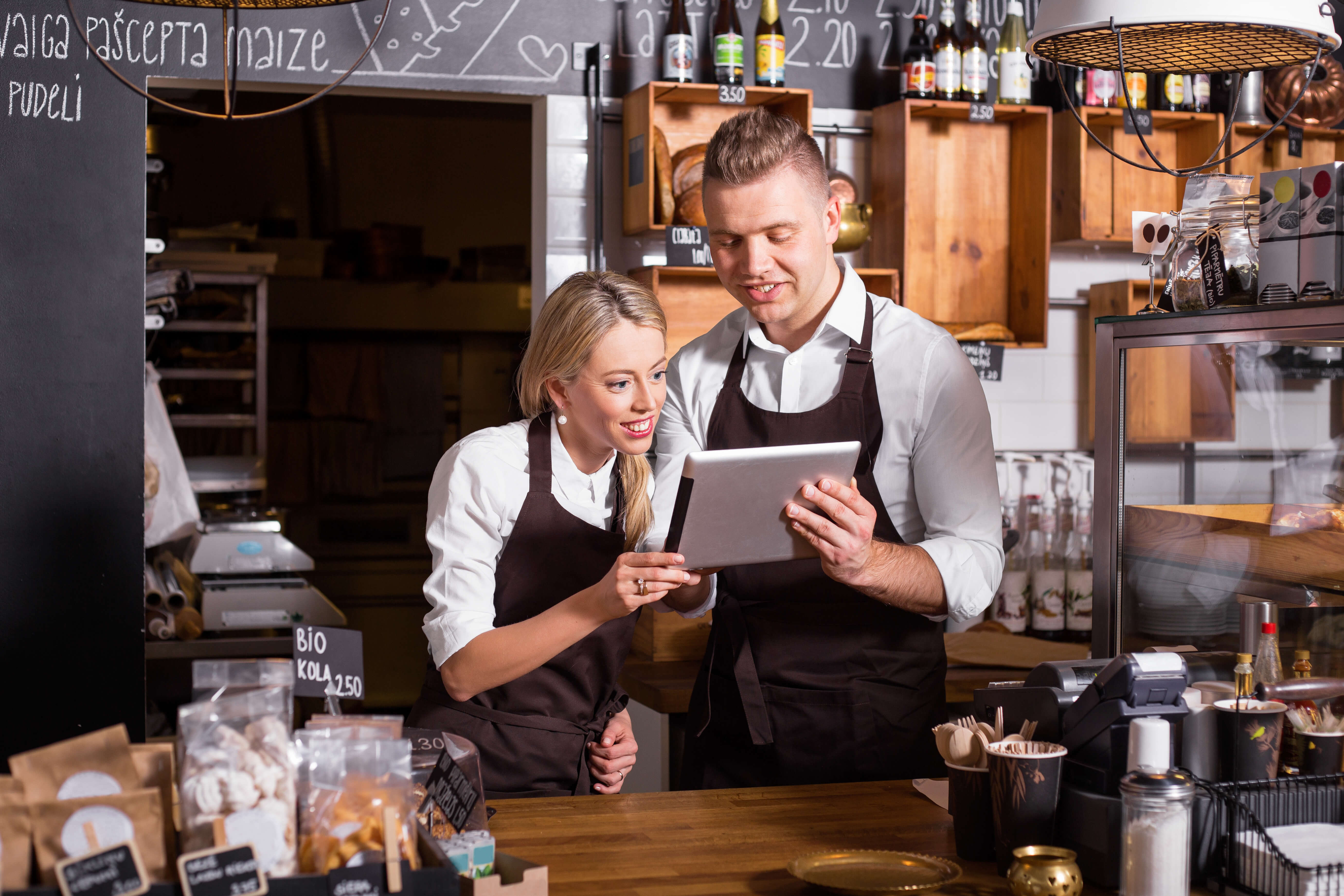 These days it seems like everyone's a critic.
A restaurant critic, that is! From foodies to farmhands, everyone has something to say about their favourite places to dine in or out.
But if you want to get ahead in the restaurant business try one of these small restaurant ideas for your next startup.

Outdoor Seating and Heating
Many leisure seekers love the ambiance of outdoor seating. In addition to offering guests a place to take in outdoor air, outside seating allows small business owners to accommodate more guests. With small restaurant ideas like this one, your business can expand and grow.
But restaurant owners who offer outside seating need to be mindful of local weather conditions. This could mean including design element choices like outdoor space heaters, fire pits, waterfalls and covered seating to name a few. If done properly, these elements can add to the overall look and feel of the seating area.

Play with Lighting and Furniture
Among all of the small restaurant ideas we will cover, this one might have the strongest tie-in to the overall concept. What furniture you choose and how you implement lighting can make a place feel playful, mysterious, old, new – you get the idea.
Play with lighting and furniture as part of your concept. Try different things and see what feels right. Maybe even hire an interior designer to mock up concepts.

Create a Pop-Up Restaurant
A pop-up restaurant offers many of the same benefits as a brick-and-mortar one without as much capital expense. It's a great way for restaurateurs to test a concept or menu item. Perhaps most importantly, small restaurant owners can use a pop-up to build their reputation.
To create a pop-up restaurant determine your purpose. Whether to gain street cred or benefit a charity you must first understand why you want to have a pop-up. Then you can move on to location, getting permits and creating a menu.
A pop-up can last several days or weeks, making it one of our more flexible restaurant ideas.

Start a Food Truck
If mobility is important, start a food truck. Food trucks are all the rage, and owning one has many benefits. These include:
High-traffic locations
Lower cost of operation
Easy to operate and maintain
Lower employee, payroll, and HR expenses
Have a Rooftop Bar
If you want to delight guests who are looking for thrills, you may consider including a feature like a rooftop bar. The same can be said for a rotating or light-up floor, breathtaking overlook, a bar made of ice or any number of wow factors that business owners can include.
When planning a rooftop bar or other wow factor, start early in the planning phases by shopping for the right space to make it happen. You will also need to consider whether or not you intend to buy or lease, and all building regulations.
With the right real estate, you can wow guests and set your small restaurant apart from the competition.

Create a Stellar Menu
To create a stellar menu, you should follow these steps:
Research your core customers and foods or ingredients that apply to your concept.
Write your menu, paying attention to composition and describing items in enticing details.
Arrange your menu to follow a logical order. Appetizers to desserts.
Offer a kid's menu.
Use appetizing photos of food on your menu
Offer samples and specials.
By following these ideas, you can drum up some big flavour.

Gift Cards and Loyalty Programs
Employing some kind of loyalty program is not the rarest of our restaurant ideas, but it's one that's easy to implement. And customers really like it. Who doesn't love to get free stuff?
Loyalty programs could range from the smoothie punch card to singling out customers for their loyalty in email, promotions, and publication.
Gift cards are another easy way to drum up business. In addition to making great gifts for regular diners, realtors and community associations that value local business can give them to clients too.

Seating Arrangements Are Important
How you arrange the seating in your restaurant can make or break the experience.
As a restaurant operator, you have many different seating options to choose from. These include high tops, tables, booths, individual seating for couples and families, or family style seating where everyone sits around one table to name some.
If you've ever been to a hibachi restaurant you know the seating is a much different experience than your local casual dining. And that's intentional.
Seating arrangements tell guests what kind of experience they can expect. When designing your concept, think about these questions and how they relate to seating:
Is your restaurant open and airy or closed-off for a private dining experience?
What kind of restaurant is it? A nostalgic soda shop diner will have a different seating arrangement than a five-star steakhouse.
Do you want diners to be able to interact with other diners?
What kind of terrain is the restaurant on? A restaurant with beach dining may need a different type of seating arrangement from one where all seating is in a brick-and-mortar building.
Promote on Social Media
You can't discuss ideas to help restaurants grow without having a conversation about social media. Promoting your restaurant on social media begins by first making sure you have a profile on all the relevant platforms. These include:
Facebook
Twitter
Instagram
Pinterest
Google Plus
Once you've established that your social media pages exist where your customers are, it's time to start posting. The key to successful social media is to be authentic.
But in addition to being yourself, it doesn't hurt to follow these social media posting tips from top marketers.

Get Involved with Local Events
Among the things you can do to promote your business is get involved with local events.
Restaurants play a large role in their community and can assist with food banks, fundraisers, pop up events, charity events, galas, cooking competitions and more. Getting involved with these types of events is a great way to network and promote your business.
Many small business owners will join local organizations to help them get to know other local business owners. This is important because it can lead to opportunities for cross-marketing and more business.

There's More Than One Right Way to Start A Business
If these small restaurant ideas tell you anything, it's that there's more than one right way to start a business. That said, all businesses need a good plan to get started. If you're thinking of starting a restaurant consider having a solid business plan first.

How to Write a Business Plan in 10 Steps
Create a logo and brand the cover of your plan. Even if your logo is incomplete this will give readers a good idea of what your restaurant is all about.
Describe your concept in great detail
Create a sample menu for the plan.
Talk frequently about the role service plays in your concept
Decide on the management team structure, create an organizational chart and maybe even name a few managers.
Incorporate visuals to keep the reader interested
Understand your target customers and dedicate a section of the plan on who they are and how to reach them.
Describe your location and how it impacts your concept
Do a market analysis and plan your launch
Incorporate your full marketing plan
Bring Your Small Restaurant Ideas to Life
With a solid business plan, you are well on your way. If you follow these trends, you'll be running a successful small restaurant in no time:
Think about the type of restaurant you want to start. Does it need to have low start-up cost? Mobility? Wow factor?
Pay attention to the ambiance. What will the furniture look like? What lighting effects are you going for? Indoor and outdoor seating?
Tie the menu to the concept. Is it farm-to-table? Americana? Carribean food?
Keep your guests happy and coming back for more. Have you thought about implementing a loyalty program or issuing gift cards?
Make sure to network. The best approach is a combination of social media and interacting directly with your community.
After reading this blog, you probably feel better equipped to start your own restaurant business. Maybe you even have a concept or a name? Use our NUANS Preliminary search tool to see if your business name is available. It's totally free, what do you have to lose?

---