9 Business Ideas For Work-At-Home Parents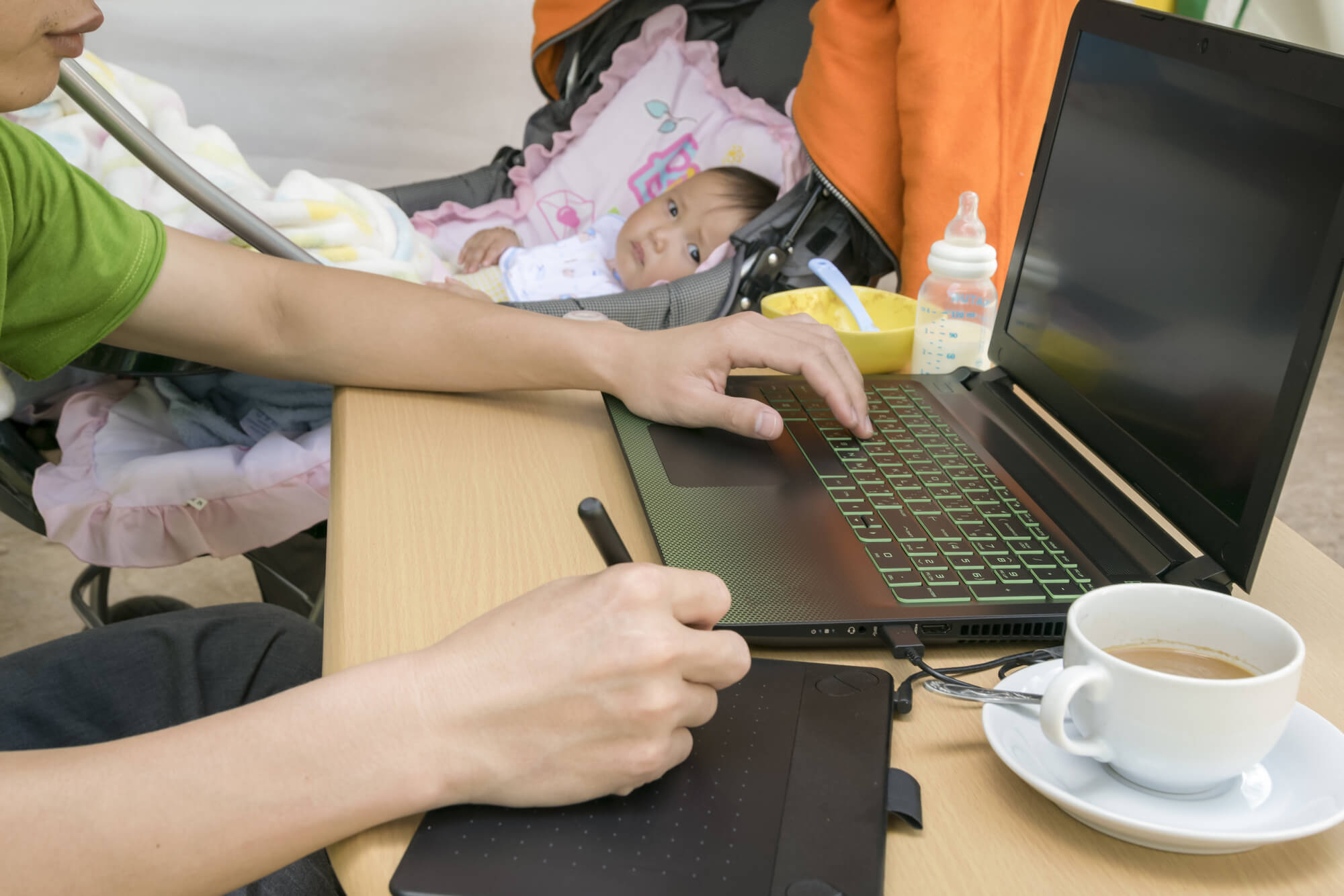 Are you a parent that wants to start a business working from home?
Luckily, there are multiple entrepreneurial ventures you can undertake. Stop dreaming about your own business your at home with the kids and join the work-at-home parents' revolution!
Here are 9 awesome business ideas for fathers and mothers working from home.

1. Freelance Writing
One of the most popular work-at-home jobs a parent could have is freelance writing.
Easy to set-up, simple to operate, and you are in complete control of how much you work and how much you make. Also, you dictate which clients you work for, a major plus if you have a history of dealing with, shall we say, "difficult" clients in the past.
You can help others write resumes, emails, blog posts, website content, white papers, social media, lead or sales pages, and more! It's incredibly lucrative, with copywriting being in such high demand.
Give freelance writing a try if you've always had a knack for the written word!

2. Virtual Assistant
Every small business needs one, even if they don't know it.
Virtual assistance is a catch-all for anything a startup CEO or small business owner needs someone else to do. Delegation is pivotal for the growth and success of any company; that's where you come in.
Essentially, you're a remote secretary, handling email, ordering products, shipping, customer service, user experience for a website, and even booking accommodation for your "boss" when he travels.
The possibilities of being a VA are limitless. You can have one client or multiple, each bringing their own style and challenges.
If you're a stay-at-home parent who's actually a people person, become a VA.

3. Home-Based Food Company/Bakery
Love being in the kitchen? You might, considering you're the parent who stays home.
Use this to your advantage. Take your cooking or baking acumen and create a website with various recipes, kitchen gadgets, tips, tricks, and more. Bake goods and sell them (with proper licensing), hold local cooking classes, write a cookbook.
If your resume would be splattered with hundreds of hours over a stove or oven, this avenue might just be the ticket.

4. Blogging
Blogging has been a mainstay since the early part of the 21st century, and it isn't going anywhere.
If you have that writing craft we discussed earlier but have a clear message and target audience, consider writing your own blog. Build up an audience, help them accomplish their goals, and eventually monetize your blog.
The amount of assistance online when it comes to monetizing your blog is nuts. Whether you go with affiliate marketing, sponsored posts, or create your own products/services, once you have those raving fans, it's game over – you'll make income, and a decent amount at that.
Use your writing for good and have fun with your stay-at-home work with a blog.

5. Online Marketplace
Simple, quick, and super lucrative, opening an online marketplace is a tremendous way to make an extra buck or two.
The beauty of opening an online marketplace is you can do it numerous times. As many as you can, in fact. Build the barebones site, put the products on there, and market your site through SEO and social media.
If it's affiliate products, you'll receive a commission for bringing customers to the site and purchasing. More marketplaces = more visitors = more commission.
You hear that? That's the cash register going crazy when you begin your online marketplace business.

6. Daycare
For those who aren't as Internet inclined, perhaps a daycare is right up your alley.
With a day care business, a work-at-home parent gets the ability to nurture and effectively raise a few kids to become upstanding, polite, kind human beings. The importance of child rearing has forever been vastly understated. As a daycare professional, you are literally shaping children's futures.
You'll want a website, contracts and proper licensing, but the majority of your day is spent with kids.

7. Event Planning
If you love setting the mood or scene, this is the right place for you.
Event planning allows for flexibility, creativity, and variety, things all stay-at-home parents crave and need. From weddings to birthdays to graduations to company holiday parties, you can create everything from decorations to itinerary to feel.
Basically, you are in control of everything (while the same may not be said for everything at home).
Help people make arrangements with vendors and other businesses to make the event of the season. Get some excitement in your life lived from home!

8. Photography
This idea is for those who love to capture memories. You have an old camera (or a high-quality new one) and the desire to take photos for others. So utilize that for your business venture.
Photography is always in high demand; there will always be weddings, birthdays, and other important events happening (see above). You can charge a decent amount for amazing photography. Make your work absolutely stunning, because reputation is everything in this industry.
Stop procrastinating on your passion and get into the photography business!

9. Transcribing/Proofreading
When all else fails and none of the options sound good, sometimes a simple task is what you're looking for.
This is where transcribing or proofreading comes into play. Super intuitive, tons of work, and easy to do, transcribing is usually taking video and writing the script. As for proofreading, if you have a background in editing or the English language, it's a paint-by-numbers type of job.
If you want simplicity at its basic, start with these two options for your work-at-home entrepreneurial business.

Become Work-at-Home Parents with These Incredible Ideas!
Go from stay-at-home parents to work-at-home parents.
Use these nine business ideas to kickstart your new income stream from your home office!
Before you get too ahead of yourself with naming your newfound solopreneur venture, check out our Free NUANS Preliminary Search to see if your business name is available for registration.
---