How to Market Your Business at a Trade Show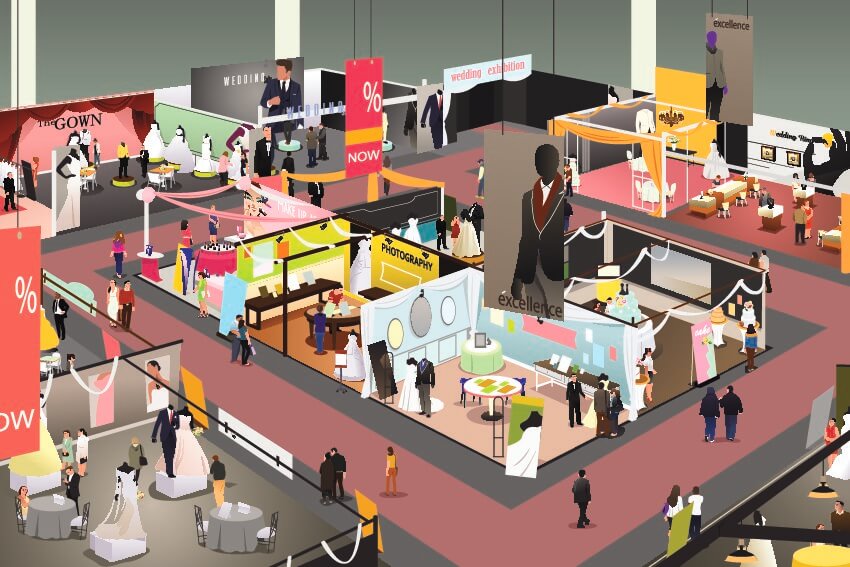 Are you struggling to make an instant connection or draw people in at a trade show or industry event?
Do you feel like your trade show booth design isn't doing much to get peoples' attention — or promote your brand in any way?
If so, you need to re-evaluate your overall trade show marketing plan as soon as possible.
This post is here to help.
Read on to learn some of the most important aspects of marketing your business at a trade show.
By following this advice, you're sure to make a lasting impression on everyone who visits your booth, long after the trade show has ended.

1. Rely on Branded Products to Draw People In
You know that your company has excellent products, superior value, and can work to help other businesses seriously increase their profits.
But for any of the trade show attendees to realize that, you first have to get them to check out your booth.
The good news?
Branded promotional products are pretty much guaranteed to bring people over.
SWAG, or "Stuff we all get" is an awesome way to incentivize people to head to your booth — as long as you're choosing products that people will truly use every day.
Instead of a cute, but ultimately not very useful item like a flashlight, a whistle, or a bouncy ball, try something like a USB key, a magnetic calendar, or even a canvas tote bag or lunchbox.
SWAG isn't just a great way to get people to listen to a pitch or pick up a flyer.
It also helps to spread the word about your booth to other trade show attendees. When people notice that you're giving things away for free, they're sure to pay your booth a visit.
You'll also enjoy the effects of your promotional products long after the trade show is over.

2. Have a Demonstration If Possible
If you really want to know how to use a trade show for marketing, then you need to focus on tactile and sensory experiences.
After all, anyone can head to your website to take a look at your products or read your product listings to learn about the functions.
But when you're at a trade show, you need to take that opportunity to show, not tell.
Let people come and try out your products for themselves. Have someone — preferably a local influencer or big name within your industry — demonstrating exactly how your products work.
This also shows a serious amount of confidence in your products, since you're willing to show them off at a major industry event.

3. Debut a New Product or Service
Make the trade show itself an important event for your company. See it as an opportunity to show off a new product for the first time.
You can even host an "unveiling" ceremony at a certain time, and spread the word on social media and in person at the trade show.
This way, you'll be able to generate a serious amount of buzz and excitement around your brand. You'll also show that you're much more creative than your competitors — and that you know how to take advantage of the situation.
You'll also be able to answer the kinds of questions that might cause people to hesitate buying the product (or using a new service) in the moment. This will certainly help you to increase your sales.
You can even let people start signing up to be the first to try it — with a discount, of course — at the trade show.

4. Brand your Booth
Of course, if you really want to make a lasting impression at a trade show, you need to make branding the centre of your trade show marketing plan.
This means that everything, from the tablecloth to the wall space behind your booth, should be in line with your overall branding strategy.
To get the attention of those who walk by your booth, invest in branded banners, photo screens, or even people in costumes dressed as a mascot.
You might also pick a booth that's created in your company colors, or even choose a booth style that fits with your company as a whole. For example, if you're a beach real estate company, why not have a booth in the shape of a cabana, and hand out branded beach toys?
The sky is the limit here — but average booth design doesn't get you noticed. Instead, don't be afraid to take risks and think outside the box.

Conclusion
We hope this post has helped you to understand that learning how to successfully market your business at a trade show isn't as difficult as you might have thought.
All that matters is that you put branding at the centre, offer a demonstration or branded products if you can, and take advantage of the incredible marketing opportunities a trade show has to offer.
---