How To Manage Emotional Burnout From Your Business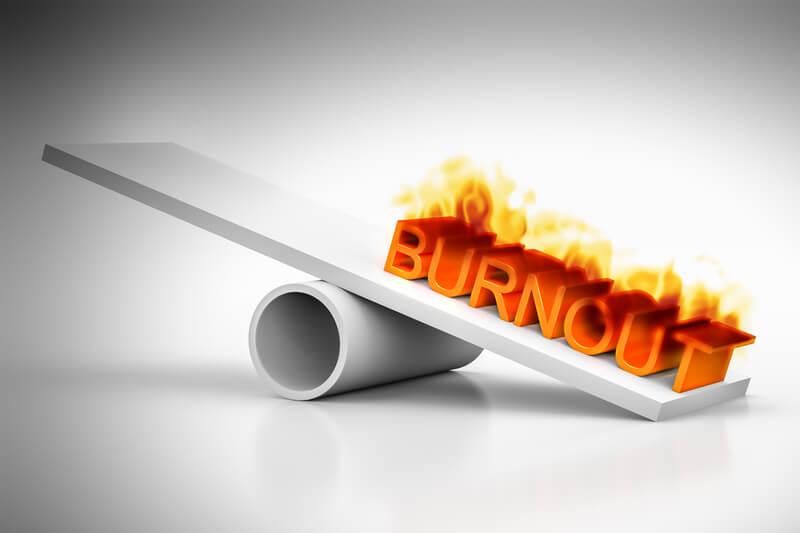 Ever wonder how companies like Axion Xen, Canadian Tire, and Kinaxis make onto lists like Canadian Business magazine's 2016 most innovative companies?
It all starts with a name. You already know that everything, from what you name your company to who you staff it with, matters. You also know that how you run it can put you at risk for major emotional burnout.
No matter what kind of business you're in, you'll need to arm yourself with ways to battle stress.
Staff Stressors
Ever feel like if you want something done right, you've got to do it yourself?
To succeed in your new business, you're going to have to let go of that thought.
Staff, personnel, and employees can be among the leading causes of an emotional burnout in a business. But what can you do? After all, you need employees.
Excellent customer service can make or break your business — and you want to be made, not broken!
The good news is, there's not one specific formula to winning at recruitment. It's going to depend on a number of factors. These factors include the type of business you're starting. They also include your location, your resources, and much more.
Students at the University of Scranton have compiled data on some of the main characteristics of standout candidates. Their advice?
Look for people who you think will make a commitment to the business. The worst thing is to invest in candidates with your time, resources, and knowledge, and then have them leave and have to start over.
Also, keep in mind that eagerness is often more valuable than education. We're not saying that degrees and experience don't help. But you want someone interested and excited to learn from you.
Additionally, always keep your eye out for ways to continue expanding your team. You want to hire people who can work together as a team, rather than a disjointed group of all-stars. It's all about creating a collaborative, cohesive unit.
Break Away To Beat Emotional Burnout
A vacation in your first year of starting a new business?
We can hear the laughter now.
We're not suggesting you take an around the world trip while in the midst of starting your new business.
In fact, something as short as a one or two-day "staycation" can really work wonders to battle emotional burnout.
Tap into one of the many free online calendars and aggregators that list events around town. Sometimes, you can get away from it all without really even getting away at all.
Options include:
Jazz in the Park
Art in the Country
Cocktail Cruises
Salsa Festival
Take part in community events and celebrations as often as you can. There's no reason to stay locked inside your office, construction site, mobile office, restaurant, or another new workplace.

Hit The Street
Fresh air does the body good. One way to beat back emotional burnout is to get as much of it into your lungs as you possibly can!
We're talking about hiking (or biking, strolling, rolling – you get the picture). Break out of the building and onto some hiking trails.
Be sure to do your research before you go!
Go online and check out available resources. These can include clubs, trails, maps, suggested sites, volunteer programs, seminars, and more.
Then head outside!
Recommendations stream in from all over, including these from Huffington Post Canada's list of the 25 Best Places to Hike in Canada:
Naikoon Provincial Park (British Columbia)
La Mauricie National Park in Quebec
Kluana National Park in Yukon
Whiteshell Provincial Park in Manitoba
Kanaskis Country in Alberta
Let the bushes be your boardroom!
Hiking not your thing? Don't sweat it — there are other ways to get out of your business head and de-stress (even without getting out).
Find utter bliss by locating a licensed massage therapist. A hot stone treatment or even a harder Shiatsu massage can calm you down.
The Mess Of Stress
When emotional burnout settles in for a while it not only affects you, but everyone around you to.
This isn't to say you're not allowed to get sick or overburdened.
You just have to take care of yourself.
Make the time and be sure to stay on top of your healthcare needs.
Give Yourself Some Credit
Being unable to tap into available financial resources to hire, maintain, and grow your business can cause unbelievable stress. However, it doesn't have to be that way.
Wherever you are in the business building process, you can work simultaneously on building and bettering your credit.
The earlier in your process, the better it is. This is because you will have more chances to take advantage of loans, investments, and other cash influxes. This can really help when it comes to things like breaking ground for a new office or going on a hiring spree.

Building Up Business Credit
The ways to go about building up your business credit are similar to those you've done for your personal credit.
The longer you have lines of credit open (such as on charge cards) and responsibly paid off, the better your credit. Stick to a couple of cards rather than accepting every offer you get and put the bulk of your spending on those cards.
Pay off the cards in full before the due dates whenever possible. Take advantage of any benefits you can.
Talk to lenders about special programs for small business lending to help you jumpstart your credit.
Conclusion
Michigan State University rated Canada very low for investment and financial risks.
It named it a "basically secure business environment." and cited strengths including a solid banking sector, abundant energy resources, and high population growth.
So make sure to be proactive about managing emotional burnout and take advantage of this positive business climate!
---