Top 9 Marketing Trends For Growth in 2018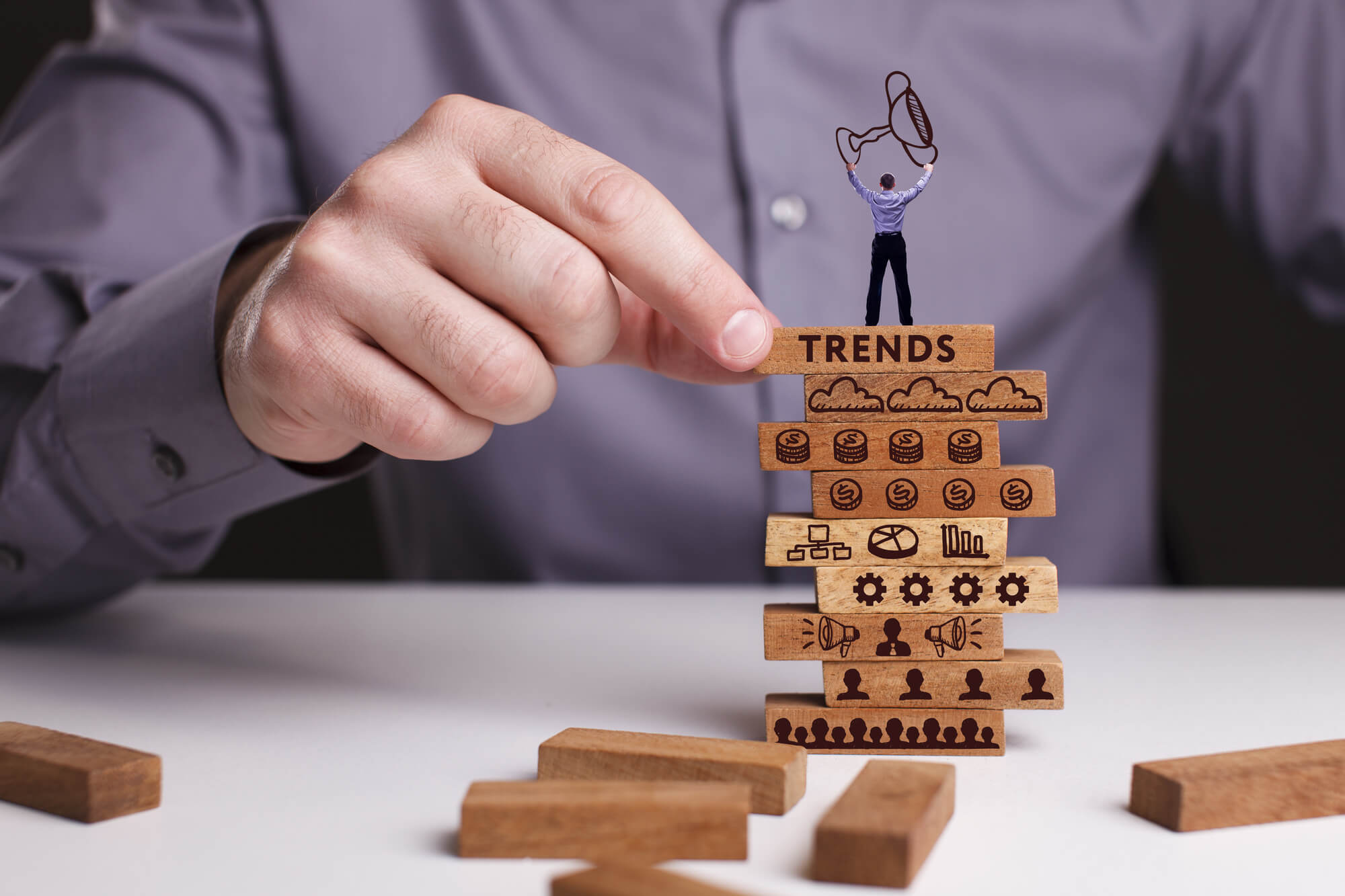 The latest marketing trends demonstrate the wide variety of options a new startup has to find their first customers. So, where do you start?
Creating a marketing strategy for a startup usually focuses on budget before anything else. Stop! If you don't invest in your marketing at the start of your business, you're dooming yourself to a constant customer chase.
The first step is to make sure you've got great content for potential customers. Write some in-depth and high-quality blogs that appeal to your target audience. You'll also need to clean up your website so your customers have a simple buying experience.
Next, decide how you want to bring your customers to your website or your business. Study the current marketing trends and have a look at what your successful competitors are doing. Do they use pay-per-click ads, or do they invest in social media direct engagement?
Knowing what your competitors are up to is a good indicator of where you need to start. It'll help you stop feeling overwhelmed by the options available to you.
However, if you want to make sure you're staying ahead of your competitor, it's worth looking at the latest marketing trends of 2018 to see how your business could benefit.

All Marketing Is Now Personal
It's important to remember one ultimate key to successful marketing for any business: Personalization is the only way you'll connect with customers.
From using someone's first name in an email newsletter to developing highly-personalized remarketing campaigns, the user experience is all about the individual.
Advertisements now need to talk to the person about themselves and their problem, not the about product which would solve it. Consumers are interested in their own needs and desires: shouting about a product doesn't cut it anymore.
Social media is the most common marketing channel for startups and small businesses. It's low cost, low risk, and easy to target ideal customers. Consumers now expect to see adverts based on their location, search history, and previous purchases.
Yet this need and expectation for a unique buying cycle, where businesses claim the interest of the buyer through a personal connection, has expanded to all forms of marketing.
Advertising is now about the benefit to the individual, instead of the benefit to the company.
With that in mind, let's take a look at some of the top marketing trends for 2018 to guide your marketing strategy towards growth.

Top Marketing Trends for 2018 and Beyond
Marketing strategies are constantly evolving, but there are some interesting trends from the first half of 2018.

Brand Humanization
You can be anybody online: the internet allows for a faceless brand. However, brands that capitalize on the human element are the ones which see continued success.
Customers want to know who they're buying from. Something as simple as having staff photographs on a 'Meet the Team' section on your business website could sway a buyer's decision.
It doesn't matter what you sell: buyers want to know who you are. People trust people, not brands, so it's important to bring your story to the front if you want to engage with consumers.
A strong brand story doesn't have to be intense, it needs to be real. Tell people why you set up your business and they will respond well to your marketing.

Experience-Based Video Content
Customers can see through blatant advertising: they don't trust it. What they do trust, however, is the recommendation of a real person.
Video content has continued to top marketing trends charts for the last five years. In 2018 there has been a shift towards experience-based video content.
People want to know what a product feels like to use, how it looks in real life, and what actual customers think about it.
Unboxing videos are popular on YouTube. Viewers like them because they get to see what they would get if they ordered the product. They can see what's included in the box, the quality of the packaging, and the overall first impressions of the reviewer.
It's an interesting trend that shows how little customers trust product information on a website listing alone: they want to research their purchase in terms of product experience instead of model specifications.

Live Streaming
Almost every social media channel now has a way for users to live stream video from wherever they are.
Live streaming is a good way to introduce a human element to your brand. Live TV can go wrong, it's not perfect, and that imperfection is what people connect with: they can put themselves in your shoes.
A video brings a face and a voice to a brand, which helps customers empathize with your mission and goals. Live streaming is a great way to include customer-generated reviews of your product. You can even ask people to send in their video reviews on social media to drive engagement.
A live stream allows people to engage with brands on an immediate basis. You can ask people to submit their questions during a live stream and answer them in real-time. This type of direct engagement is what customers are looking for in a brand.
Live streaming boosts sales: 67% of people who watch a live stream of an event are more likely to buy a ticket for the next event.
Social media sites are tapping into the sales potential by introducing interactive videos, too. Instagram Stories on business accounts now let you create videos that encourage viewers to swipe up to view more, buy a product, or answer a poll. This type of direct engagement helps to lead the consumer through several touch-points in one session, increasing the likelihood of a sale.

Transparency and Ethical Missions
From legislation to improve data protection transparency to the increasingly 'woke' nature of consumers, customers want to know more about what a company is doing behind-the-scenes. Marketing trends will need to move towards brand stories instead of product benefits.
Consumers want to know how their individual data is used and shared. They want full control over their privacy, especially in the light of scandals like Cambridge Analytica. They want to know that they are valued and respected as individual customers instead of seen as a prospect for data analysis.
Consumers are also interested in the ethics of a company. A business with eco-friendly credentials is more likely to gain business than one without. Consumers now demand more details about the impact of their purchase on the social and economic climates.
A good example of an early adopter of the ethical mission is the shoe company, TOMS. For every pair purchased, another pair is donated to a child in need. It's a simple premise that has earned the company millions of loyal customers.

Mobile Optimization and Local Search
Small businesses and startups are the biggest beneficiaries in the recent updates to mobile-optimized websites and local search queries.
Digital marketing strategies, such as claiming a Google My Business page, will help smaller companies rank well in local searches. People use their mobiles on-the-go to find what they're looking for in their immediate location, which means marketing trends are starting to lean towards mobile-optimized websites with local SEO to capture more foot traffic.
More than 70% of cell phone owners use location-based searches on their smartphone. They search for everything from dog groomers to coupons for local takeout. The important thing here is that people use their smartphones to search the web for an answer that will result in an immediate sale for a local business.
Search engine algorithms now put mobile-optimized websites above non-optimized sites. That means a small business with a killer mobile site can more easily compete with a national company that is clunky and slow.

Content Rejuvenation and Remarketing
You don't need to have an entire vault of valuable content for customers to trust you enough to buy your product. It used to be that regular fresh content on a website or blog was seen as the golden ticket to sales conversions.
In 2018, however, it doesn't have to be new content, it just needs to be relevant content.
Digital remarketing campaigns boost sales without the need for new content. That's because this strategy targets people who have already visited your website. You know they're already interested and have brand awareness, but now it's time to increase the number of touch points to boost the likelihood of conversion.
It takes between 6-8 touch points before a customer is likely to buy from you, and even more to turn a warm lead into a sale. The more times someone sees your digital banner advert across the bottom of a Youtube video or cropping up as an advert while they're browsing an unrelated site, the more ingrained your business will become in their mind.

'Gen Z' is the New 'Millennial'
'Millennial' has been a marketing buzzword for years, but it's soon to be out-of-date.
The oldest in the millennial generation are now around age 35, and they have gained life experience in the most rapidly-developing technological decades in human history. These millennials remember using cassette tapes and floppy disks, but also recall the birth of MySpace and launch of the iPhone. They're the generation that doesn't just use apps, they invented them.
Gen Z, babies born post-1998, are the first generation to have been given iPads to learn at nursery, and who learned how to swipe a screen lock long before they held a pen. It's this generation that's now becoming influential as they enter the workforce and become economically independent.
Millennials like to shop online, ask for help online, and look for bargain prices with comparison websites. Gen Z, on the other hand, prefers to shop in-store and want benefits such as speedy delivery.
The higher expectations of Gen Z compared to millennials will change retailer marketing strategies. This generation will walk away as soon as their expectations are not met: no free delivery? Gone. Wrong order delivered? Gone. With Gen Z, there are no second chances.
Many brands have found that influencer marketing is the best way to generate revenue from this up-and-coming generation.

More Targeted Influencer Marketing
You might have been tempted to approach a big name celebrity to endorse your product or service to their social media following, but are their followers interested in what you have to offer?
Micro-influencers deliver 60% higher returns than influencers with a larger but less specific audience.
The targeted audience of a micro-influencer will be more engaged with their product endorsements. These followers see their Instagram role models as friends, not celebrity idols. They feel like they are part of a niche community together, rather than looking up to the unattainable lifestyle of a celebrity.
When a world-champion knitting expert recommends the best circular knitting needles for making an afghan, that message will reach people who want to know about the product. The same message put out by a famous actor would baffle most of their followers! People follow this knitting champion because of their reputation in a shared interest, and not because they're always in the news.
When it comes to influencers, think quality of followers instead of quantity.

Artificial Intelligence
By 2020, 85% of customer interactions will never include a real human being. You don't, however, need a humanoid robot to deliver AI customer service.
AI uses strategies and technology such as chatbots. The analysis of natural speech patterns, along with some skilled human copywriters, allows software to conduct online interactions with customers to help them solve common queries without the need for a real person.
The point of AI isn't to dehumanize the customer experience. It aims to reduce the number of repetitive tasks, such as answering common online queries, to free up the time of your staff to deal with more complex things.
These apps use machine learning to adapt and continue to grow, which means your business will be providing better customer service as time goes on. Trends and patterns in customer queries will help the software to build natural responses that adapt over time.

How to Choose Marketing Trends for Your Startup
With an unlimited budget, you could look at all of these marketing trends for your new business. That's unrealistic, however, when most startups are operating on a tight budget for the first few years.
Instead of opting for a small budget on every trend possible, choose a few to test out first. Do some market research on your ideal customer, and which tools they use to buy products and services.
Remember: marketing takes some testing. If a campaign isn't working, keep tweaking it. Trial and error is the basis for every successful marketing campaign.
If you're still stuck, read this guide on developing your small business marketing strategy!
---